| | |
| --- | --- |
| | 课题组长 |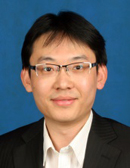 邰凯平,中国科学院金属研究所研究员、博士生导师,课题组长,沈阳材料科学国家研究中心PI。2009 年毕业于清华大学材料科学与工程系,获博士学位。2009 至2014 年在美国伊利诺伊大学香槟分校从事博士后和研究助理工作……
更多>>
| | |
| --- | --- |
| | 招生招聘 |
| | |
| --- | --- |
| | 联系我们 |
联系人:邰凯平
电话:(024) 83970105
手机:18640320728
电子邮箱:kptai@imr.ac.cn
通讯地址:沈阳市文化路72号
邮编:110016
·

Potassium-Induced Phase Stability Enables Stable and Efficient Wide-Bandgap Perovskite Solar Cells, Lipeng Wang, Gaoxiang Wang, Jianhang Qiu, Kaiping Tai, Xin Jiang, SOLAR RRL, 4, 2000098, 2020.
·

Ultrahigh thermal stability of carbon encapsulated Cu nanograin on a carbon nanotube scaffold, Pengyan Mao, Jixiang Qiao, Yang Zhao, Song Jiang, Kan Cui, Jianhang Qiu, Kaiping Tai*, Jun Tan, Chang Liu, Carbon, 172, 712-19, 2021.
·

A Flexible and IR-Transparent Bi2Te3-Carbon Nanotube Thermoelectric Hybrid for both Active and Passive Cooling, Ying Li, Yang Zhao, Jixiang Qiao, Song Jiang, Jianhang Qiu, Jun Tan, Lili Zhang, Zhigang Gai, Kaiping Tai*, Chang Liu*, ACS Applied Electronic Materials, 2, 9, 3008–3016, 2020.
·

Decoupling phonon and carrier scattering at carbon nanotube/Bi2Te3 interfaces for improved thermoelectric performance, Yang Zhao, Ying Li, Jixiang Qiao, Song Jiang, Pengyan Mao, Jianhang Qiu, Siqing Kang, Jun Tan, Kaiping Tai* and Chang Liu*, Carbon, 171, 191-198, 2020.
[video:《走近科学》20180908温差发电机]